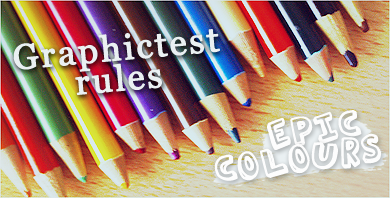 GRAPHICTEST RULES
1.
The mods will open the contests with a registration post. Comments will be screened, for the contestants to submit their entries anonymously. This means,
DON'T POST YOUR CREATIONS ELSEWHERE UNTIL THE CONTEST IS OVER
, or you'll be disqualified. We like fair play, don't we?
2.
Each participant is allowed to submit five icons/three banners/one wallpaper for each contest.
3.
A reminder will be posted halfway through the term, in case some contestants haven't handed their work yet.
4.
Deadlines will be set by the mods for each challenge (
Madrid time
), and they will post a closing dates entry when the time comes.
5.
Voting will be made through polls, in a post together with the graphictest entries submitted. Only one vote per person will be permitted. As submissions, this will be strictly anonymous.
6.
The winners will be announced in a new post. Then they can tell us how they want their prize banners to be like.
7.
You may use graphics from any fandom to make your creations. However, the mods could decide to choose a specific fandom for certain contests.